Nowadays the term "Home Theatre" is used when describing a wide variety of products and services.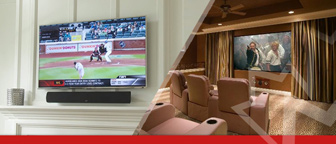 We do it all
For a lot of our customers installing a home theatre means investing in a quality flat screen TV, matching it up with a great surround sound system and calling it a day.
Many however, are looking for something more extravagant with a projector, staged seating, automation, lighting and more.
At Oakville Sight and Sound we not only sell the latest and greatest in technology but can also design, install and manage projects of any size.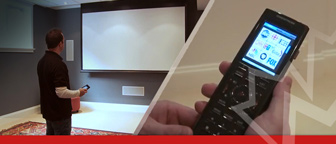 Service is the difference
Our experts have installed 1000's of home theatre systems and are always happy to advise you on everything from viewing angles and contrast ratios right down to how you get all your components to work on a single Universal Remote.
We stand behind our products and installation and are 100% committed to delivering the service that makes the difference.
How can we help you?
For more information please choose below the Home Theatre that best describes your needs.
(note: these are basic groupings – we customize products and services as needed)
Home Theatre Pro >
Products & services including:
Superb picture quality HDTV or starter projector package;
Integrated surround sound system;
Hidden wiring and universal controls;
Wall mount or quality cabinet furniture.
Not sure what you need or where to begin?
No problem, years of experience has taught us that getting to know our customers before we even think of recommending products and services is essential. The best way to do this is to book a free in-home consultation so we can see and assess your space. We welcome your inquiry…